C2C presents Song Suffragettes
Bush Hall, London.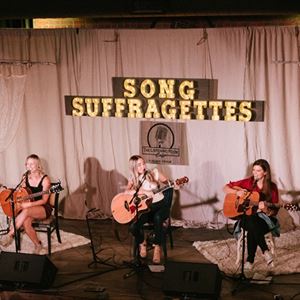 Under 18s must be accompanied by an adult. We cannot issue refunds to under 18s who are not accompanied by an adult.
More information about C2C presents Song Suffragettes tickets
Nashville's acclaimed all-female singer-songwriter collective Song Suffragettes will be embarking on their first-ever international tour this April. It will feature Kalie Shorr and Candi Carpenter from the United States along with Vic Allen and Bellah Mae from the United Kingdom. Plus, in keeping with the Song Suffragettes' mission to always introduce new talent at every show, there will be an additional, local singer-songwriter performing with the women at every show. That additional talent will be announced.
In over five years, Song Suffragettes has become a Nashville music institution, known for combating widespread gender disparity throughout the music community. Through their weekly show at Nashville's The Listening Room Cafe, Song Suffragettes has showcased over 250 talented females, 16 of whom have gone on to receive record deals and more than 40 who have landed publishing deals. With massive press coverage from Forbes to the Washington Post, ELLE magazine said this about a Song Suffragettes show: "Their collective talent is palpable - chill-inducing." And Billboard Magazine has called Song Suffragettes "Next-Gen Nashville…Shaking Up Music City".
About Kalie Shorr
According to The New York Times, Kalie Shorr's debut album - Open Book - was the #7 Best Album of 2019 alongside Taylor Swift, Lana Del Ray and Ariana Grande. Along with a long list of other accolades, Variety called Open Book "2019's best freshman country effort," and Stereogum said "country music needs this kind of fire." Shorr burst onto the Nashville music scene in 2016 with her self-penned hit "Fight Like A Girl" and shortly after, the Portland, Maine singer-songwriter became a Sirius XM "Highway Find" and was spotlighted by Apple Music, Spotify, CMT, Radio Disney Country, Pandora, Taste of Country, The Boot and even Billboard Magazine. She was named a "CMT Next Women of Country", "The New Nashville" by Teen Vogue and a "Top 10 Country Artists To Watch In 2018" by the Huffington Post. She made her Grand Ole Opry debut in 2018 and has gone on to play that heralded stage 17 times so far. Shorr has toured with Sara Evans, RaeLynn, Jimmie Allen and spent the past December supporting LeAnn Rimes' "You And Me And Christmas" Tour. From her work with the all-female, singer-songwriter collective Song Suffragettes, Shorr has been featured on PBS NewsHour, NPR's "Morning Edition" and "On Point" as well as in ELLEMagazine. She rang in 2020 performing for over 200,000 people at Nashville's largest-ever New Year's Eve show with Keith Urban, Stevie Nicks, Jason Isbell, The Struts and more. With wide praise for her current album Open Bookcoming from diverse outlets like NPR, Slate, People, No Depression, Rolling Stone and more, Shorr's new year is already lighting up with The Guardian (UK) and The Tennessean calling her an artist to watch in 2020.
About Candi Carpenter
Nashville is often called a ten-year town. For Candi Carpenter, it's been twenty years of hard work, heartbreak, and second chances. With a vocal quality delicate enough to entice you closer and powerful enough to knock you to the back of the room, Carpenter proves to be a top contender worthy of the noteworthy accomplishments coming her way. Working alongside Grammy-winning Brandi Carlile, performing for Dolly Parton, and living out her childhood dream of performing solo at the Grand Ole Opry are just a few of the many ways Candi has celebrated her rising star power. Parton shared, "Candi Carpenter is one of the greatest singer/songwriters I've ever heard, bar none. I became a fan when I heard some demos and said, "That girl's a star. I think you'll agree."
About Vic Allen
A top 5 artist on the iTunes U.K. Country Chart and a rising name on the U.K. scene, Vic Allen blends an acoustic-driven sound with strong influences from modern country music. The past year has seen the release of her EP Enough, tracks from which received airplay on Country Hits Radio and BBC stations, as well as placement of lead single "Talk" on Spotify's official "New Music Nashville" playlist. In March 2019, Vic opened for Sarah Darling on her Wonderland Tour and played her first headline show, performing to a packed audience at The Green Note in London. Vic is a founding member of "Write Like a Girl", a movement that aims to put female songwriting talent in the spotlight. In 2018 she embarked on a country-wide "Write Like a Girl" Tour with fellow songwriters Beth Keeping and Emily Faye. The Tour was a huge success, mentioned by Bob Harris on Radio 2, and due to high demand, the girls carried out a second successful tour in November 2019.
About Bellah Mae
Having grown up on stages from the age of four with her Grandfather's rock 'n' roll career, Bellah Mae's love and want to perform has always been what she's known for sure. She has always loved bringing a room full of people together of all ages and walks of life with her bubbly character and unique original sound, and she's always sure to win over the hearts of her audience. From her deep roots in southern music, she grew into her country style when she picked up a guitar at age 10 and taught herself to play. This was the beginning of the journey and after 8 years of developing her own style and authenticity in music, she released her debut EP Phases last year which has had great success so far. With the single 'Miss Me More' being used multiple times for OK Magazine, celebrity press videos and played on global radio stations, there are strong expectations for the EP to grow even bigger. At only 18, her ambitious and endearing nature is like no other and has her dreams set big with wanting to blow up the English meets Country market.